About the box:
We're so excited to reveal the May theme for our monthly box and it is… DESERT DREAMS!
🖤
This month, we're getting swept away in lands filled with fairy tales, magic and djinn! Put the kettle on and brew yourself a sweet mint tea to prepare for a dreamy adventure, from palaces to sand dunes to magic oasis'! We've never done a theme quite like this in the past, and we are so excited for the goodies and the book in this box.
🖤
You can expect items inspired by We Hunt The Flame, The City of Brass, An Ember in the Ashes, Rebel of the Sands, The Forbidden Wish and more! There will be a fantastic selection of items – some of which we have never featured in a FairyLoot box before! We are thrilled to reveal that this box will include an exclusive candle by the one and only @wickandfable.
🖤
Our featured book of the month is a captivating story inspired by Persian mythology. In this original fairy tale, a girl is cursed to be poisonous to the touch, and it truly is a gem. This FairyLoot exclusive edition will have an EXCLUSIVE COVER, SPRAYED EDGES, ARTWORK ON THE REVERSE OF THE DUST JACKET and will be SIGNED BY THE AUTHOR!
🖤
This box is available now for new subscriptions and single purchases will be available on April 15th at 1pm GMT.
🖤
If you already have a subscription you can sit back and relax – you will automatically get this box! 😎
My Guess:
A captivating and utterly original fairy tale about a girl cursed to be poisonous to the touch, and who discovers what power might lie in such a curse…

There was and there was not, as all stories begin, a princess cursed to be poisonous to the touch. But for Soraya, who has lived her life hidden away, apart from her family, safe only in her gardens, it's not just a story.

As the day of her twin brother's wedding approaches, Soraya must decide if she's willing to step outside of the shadows for the first time. Below in the dungeon is a demon who holds knowledge that she craves, the answer to her freedom. And above is a young man who isn't afraid of her, whose eyes linger not with fear, but with an understanding of who she is beneath the poison.

Soraya thought she knew her place in the world, but when her choices lead to consequences she never imagined, she begins to question who she is and who she is becoming…human or demon. Princess or monster.
---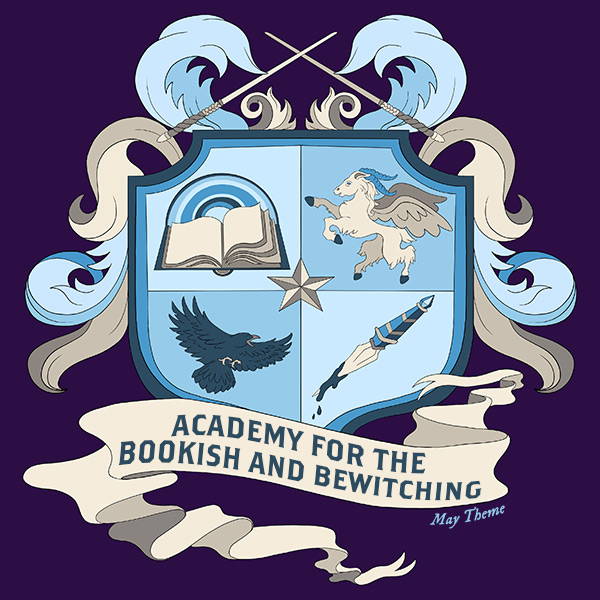 About the Box:
Summer's on the way, but at LitJoy, school is in session! This May, LitJoy is heading to a campus where bloodlust is the norm. We'll get in with the right crowd from Aglionby. We hear Yale is lovely this time of year—that is when you can keep out of trouble with the Houses. You'll have to tolerate the humans as you head back to high school in small town Forks, WA. And you may even find love in the most unexpected places as you "carry on" through the school year! Yes, May's 🎒🏫ACADEMY FOR THE BOOKISH AND BEWITCHING🔮✨ crate is packed full of your favorite magical schools, academies, training camps, and colleges!
About the Book
In a heartfelt tale of friendship, first love, and magic, three high school students find that Senior year might look a little different than they planned! Magic is not widely accepted, though it remains a key component of these three characters' friendship and connection. That is, until it puts them in great danger and threatens to not only ruin their friendship, but their lives. Dive into summer with this enticing, romantic, and magical read!
LitJoy Crate Book Customizations
Signed by the author
Reversible dust jacket artwork by @yuuki.art
Tip-in page artwork by @yuuki.art
Author Letter & art print separate from the book
About the Items
In this crate, you'll find items representing these fandoms:
Vampire Academy
The Raven Cycle
Ninth House
Carry On
Twilight
Harry Potter
My Guess:
A magic-infused YA novel about friendship, first love, and feeling out of place that will bewitch fans of Rainbow Rowell and Maggie Stiefvater.

Living in a small town where magic is frowned upon, Sam needs his friends James and Delia—and their time together in their school's magic club—to see him through to graduation.

But as soon as senior year starts, little cracks in their group begin to show. Sam may or may not be in love with James. Delia is growing more frustrated with their amateur magic club. And James reveals that he got mixed up with some sketchy magickers over the summer, putting a target on all their backs.

With so many fault lines threatening to derail his hopes for the year, Sam is forced to face the fact that the very love of magic that brought his group together is now tearing them apart—and there are some problems that no amount of magic can fix.
---
OwlCrate
Rebels with a Cause
About the Box:
We're so excited to reveal the theme for our upcoming May box…REBELS WITH A CAUSE!
🔥 The book we've chosen for May is a fantasy reimagining of 15th century Spain! It features a crew of rebels fighting for what's right at all costs. It's incredibly fast paced, with twists and turns you'll never see coming, all the way until the heart-stopping conclusion. We fell in love with this story of grit and determination and we know you will too!
🔥 We are including an awesome exclusive edition of the book, which will have a very different EXCLUSIVE COVER. The book will also be SIGNED and come with a letter from the author.
🔥 There will be items inspired by An Ember in the Ashes, Heart of Iron, The Bone Season and more. One extra little hint we'll give you now is that this box will include a SECOND BOOK! We can't wait to share more sneak peeks in the coming weeks!
🔥 May REBELS WITH A CAUSE boxes are available now for new subscribers! Visit owlcrate.com to grab yours!
🔥 If you're already an OwlCrate subscriber your May box is reserved for you, you don't need to sign up again. Just make sure your payment information is up to date so that your renewal goes through successfully on May 1st.
🔥 The May box is going to be such a fun one! It's filled with items that are both useful and decorative. And TWO BOOKS! Perfect for when we're all needing to stay indoors more. We hope you're as excited as we are! May boxes are currently on schedule to ship as normal around May 15-20th.
My Guess:
I am Renata Convida.
I have lived a hundred stolen lives.
Now I live my own.

Renata Convida was only a child when she was kidnapped by the King's Justice and brought to the luxurious palace of Andalucia. As a Robari, the rarest and most feared of the magical Moria, Renata's ability to steal memories from royal enemies enabled the King's Wrath, a siege that resulted in the deaths of thousands of her own people.

Now Renata is one of the Whispers, rebel spies working against the crown and helping the remaining Moria escape the kingdom bent on their destruction. The Whispers may have rescued Renata from the palace years ago, but she cannot escape their mistrust and hatred–or the overpowering memories of the hundreds of souls she turned "hollow" during her time in the palace.

When Dez, the commander of her unit, is taken captive by the notorious Sangrado Prince, Renata will do anything to save the boy whose love makes her place among the Whispers bearable. But a disastrous rescue attempt means Renata must return to the palace under cover and complete Dez's top secret mission. Can Renata convince her former captors that she remains loyal, even as she burns for vengeance against the brutal, enigmatic prince? Her life and the fate of the Moria depend on it.

But returning to the palace stirs childhood memories long locked away. As Renata grows more deeply embedded in the politics of the royal court, she uncovers a secret in her past that could change the entire fate of the kingdom–and end the war that has cost her everything.
---
Are you purchasing any of these boxes?! Do you agree with my guesses or do you think something else?!
Comment and let me know!

🙂